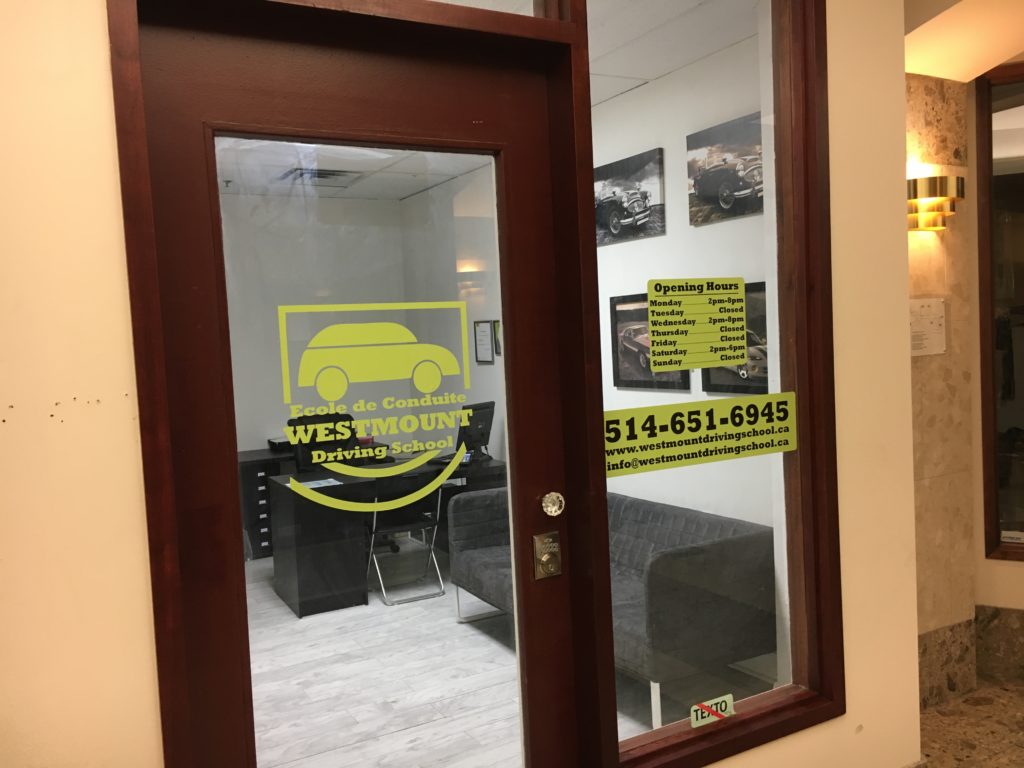 Westmount driving school is a certified driving school at Westmount. Our driving school is fully licensed by SAAQ & AQTR. We are one of the best driving schools in the Montreal downtown & Westmount area. As a community driving school in Montreal, we are dedicated to safe driving resources which help our students be safer on the road.
Became a certified Driving school in Montreal we are maintaining high-quality standards of driving teaching resources including new certified cars, trained certified driving instructors, active driving courses & mandatory Road Safety Education Program (RSEP) theoretical classroom & much more…
Our driving school is located at the heart of Montreal downtown (Metro Atwater), very close to Dawson college & Westmount square. For any driving courses, or driving lessons do not hesitate to contact our Driving School in Montreal.
Quality education & values
Westmount driving school has been providing quality driver education and training for over 10 years in Montreal's downtown area. We are committed to helping our students learn the skills they need to become safe and responsible drivers. Our instructors are highly qualified and experienced professionals who are dedicated to providing personalized instruction to each student. We offer a range of services, including classroom instruction, behind-the-wheel training, and online courses. Our training vehicles are safe, reliable, and well-maintained. We believe that driver education is essential for ensuring the safety of all drivers on the road, and we are proud to provide our students with the knowledge and skills they need to be successful. We also offer flexible scheduling to accommodate our students' busy lifestyles. We look forward to helping you achieve your driving goals.
Our Mission for drivers educations in Quebec
At Westmount driving school, our mission is to provide high-quality driver education and training to our students. We are committed to promoting safe and responsible driving practices through personalized instruction and hands-on training. We are continuing to improve our quality of services for the Quebec road safety education program. Our goal is to equip our students with the knowledge and skills they need to become safe and confident drivers. We believe in creating a positive and supportive learning environment where students can learn and grow at their own pace. Our mission is to instill a lifelong commitment to safe driving practices in each of our students and to contribute to the overall safety of our communities.
❤️ by our Students
Hamidreza Karbasian
2023-01-11
I completed my driving courses at this school, and I passed driving exams (both knowledge and road tests) at the first try. Very good and skilled teacher. Thank you
I had to prepare for the driving test after a gap of several years of driving on the opposite side of the road in very different conditions (India). The instructor was very patient and focused on the areas that needed improvement. On the day of the exam, he conducted a practice class, waited several hours until I received the license and dropped me back. I am happy with the service and would recommend them.
Completed the driving program and passed both my exams first try, teacher was patient and flexible with course times, I would recommend to anybody looking for a driving school.
Took the full program at this school and passed the road test. Zaman (the teacher) is excellent, very patient, understanding, and kind.
Very good experience, I just made it through the full program and I'm currently preparing to pass my road exam. The teacher is very serious and patient, it made the learning process much more easier.
Good teaching.
nahimana louise
2022-09-13
Am doing great and like the service best driving school in Montreal
The online classes were great, informative and easy to schedule but the in car lessons were the same route each time, which left me feeling very unprepared for the exam, and even just unprepared to practice on my own in different driving settings. I wish I had been given the chance to experience different types of roads and intersections and not gone the exact same route every time. We also never went over any kind of parking that wasn't parallel (which was taught very well, but I never learned anything else in these classes) it's a simple skill but It's still very important and I think could have been gone over in at least a class or two